Lifelong Learning at Congregation Beth El
Check out some of our offerings for 2017-2018:
C

ongregation Beth El Celebrates Israel at 70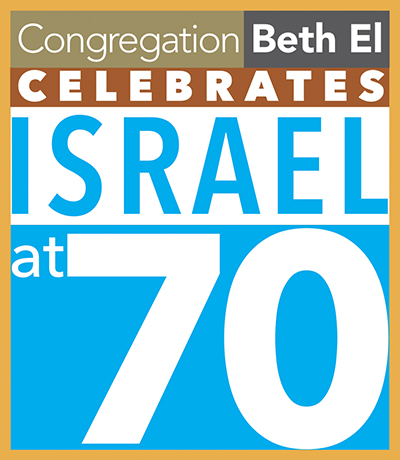 DOWNLOAD OUR WINTER ADULT ED FLYER
The Fight for Religious Pluralism in Israel: Recognizing all forms of Jewish Expression, January 16th at 7:30pm
Rabbi Arie Hasit grew up in Cherry Hill, New Jersey, and made aliyah in 2005. He currently serves as the founding rabbi of the Masorti community in Mazkeret Batya and the educational coordinator for Rav Siach, a program designed to connect Israeli and Diaspora Jews. Rabbi Arie will discuss the challenges of being a non-Orthodox rabbi in Israel, the struggle for equality among all forms of Jewish expression in Israel, and what the American Jewish community can do to support diverse Jewish expression.
The Future of the Millennial Jewish Relationship with the State of Israel, February 4th at 9:30am
Dr. Hillel Gruenberg, the Director of Israel Engagement at the Jewish Theological Seminary and Hebrew Union College, will speak about the challenging trends of affiliation, commitment, and support among the American Jewish community towards Israel and why there seems to be a schism among millennial Jews and the modern Jewish state. He will also explore what the future might hold and what the American Jewish community can do to shape the future of that relationship.
The Beth El Beit Midrash
Project Zug
Beth El will be continuing our relationship with Project Zug, beginning in January, by having congregants pair up for independent study together. Project Zug, a project of Mechon Hadar, has over 25 courses to choose from. Each pair meets weekly at a time and place that is convenient for them. Throughout a twelve week period, partners are committed to weekly learning. After the twelve weeks, we conclude by having a siyyum together.
Our Project Zug Kick Off will take place on January 28th at 10:00am with Rabbi Elie Kaunfer
Torah Talk
Torah Talk meets every Saturday morning from 8:45am - 9:30am and is led by Rabbi Olitzky, Rabbinic Intern Sam Hollander, and a volunteer congregants. From week-to-week, each leader brings in different texts and leads a conversation about the week's Torah portion. Torah talk offers opportunties for in-depth analysis and lively conversation.
Talmud and Toast
Our Talmud and Toast series, taught by Rabbi Olitzky, meets at Village Coffee, 164 Maplewood Ave in Maplewood, on the second and fourth Wednesdays of every month from 9:30am - 10:30am. Join new and experienced learners as we make our way through Tractate Sukkah together. Breakfast is on you, but coffee is on us!
Veshinatam Levanecha - And you Shall Teach Them To Your Children
Beth El's Parenting Series
How to Talk to Your Children After Charlottesville, January 25th at 7:30 pm
Peter Nelson, Immediate Past Director of Facing History and Ourselves, will be speaking to parents of elementary school-aged children and adolescents about how to talk to their children about the rise of Anti-Semitism in this country, as well as the rise of White Nationalism and bigoted rhetoric.
HEBREW READING
Learn to Read Hebrew
Whether you've never learned the Alef-Bet, or need a refresher course, this introductory course led by Shlomo Haviv will cover letters and vowels and help you string together syllables and words. By the end of the course, you'll be reading quickly and accurately.
Materials are provided but space is limited.
For more information, please contact VP of Education Aviva Gutnick or Rabbi Jesse Olitzky.
Sat, July 21 2018 9 Av 5778